ZAMBRA BIOS (below photo)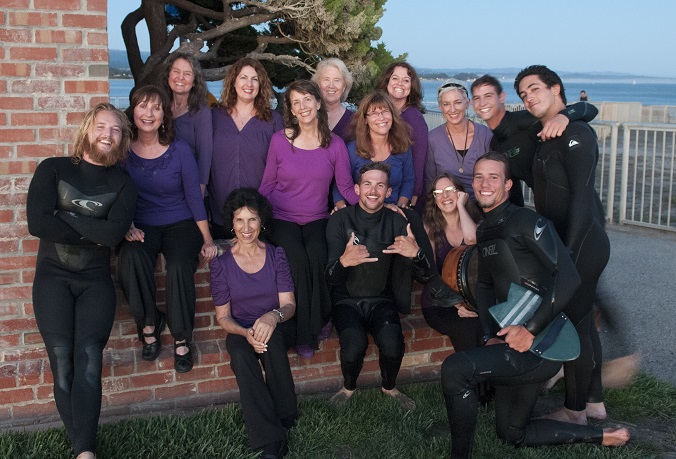 L to R top: Kathleen Loveless, Susan Krivin, Jennie Siegmund, Therese Hall Johannesson, Nancy Niles, Janet Herman, Victoria Phillips Larson, Ann Louise Wagner.
Bottom: Connie Hernandez, Laura Reeve
Not pictured: Kathryn Veditz, Jennifer Taylor Daniels
Unknown: identities of surfers impulsively crashing the photo shoot!
Photo by Hank Niles.
Therese Hall Johannesson, the founder of Zambra, has sung professionally, as a soloist and in ensemble, since her childhood. She got her start singing with her three sisters while their mom played piano. Therese holds a master's degree in social work but in recent years has returned to her roots as a music educator. She produces Spanish language musicals, directs a bilingual family choir, and is an Orff classroom specialist. Some of her most satisfying musical moments, besides singing with Zambra, are singing in three-part harmony with her twin sons.

Janet Herman first sang in performance with the selective Los Angeles All-City Children's Choir at the age of 10. She has a Ph.D. in Folklore & Ethnomusicology from UCLA, where she researched Shape-Note singing and American folksong, and sang bluegrass and Bulgarian village music. The vocalist and tenor banjo/mandolin player in the Irish band Dance Around Molly, she has studied Sean Nos ("old style" Irish Gaelic) singing at the Joe Mooney School in Ireland. She also performs on and teaches fretted dulcimer. She is co-founder of the Music of Bhutan Research Center.

Connie Hernandez, a charter member of the alto section, had never sung in public before joining Zambra. Growing up listening to country-western music, she did however play violin, performing on occasion with her little brother, who played steel guitar.

Susan Krivin's love of singing runs in her family, going back many generations. She began harmonizing with cousins as a child, while receiving formal musical training in various choral groups, and on piano and guitar. As an adult, she has enjoyed singing with friends, mostly informally, but found her musical home with Zambra in 1994. Susan's skills as a professional seamstress and designer are sometimes applied to Zambra's stagewear.

Kathleen Loveless has been a part of Zambra since the conceptual phase. She arranges much of Zambra's repertoire and often serves as our guitarist. Katie grew up in a home filled with music. She remembers her parents teaching her to pick out French horn and Baritone horn lines in orchestral band recordings and she practiced those harmonizing skills silently to pass the time during many a math class. She studied music theory at Cabrillo College where she sang in the Chorus and Chamber Singers. Since 2008 she has conducted Mary Mc Laughlin's Irish Gaelic Choir, Cor Angli.

Nancy Niles has enjoyed participating in the magic of vocal harmony since childhood. She attended voice classes with Michelle Rivard and Katherine Adkins at Cabrillo College, performed three seasons with the Bay Shore Lyric Opera, and most recently sang with the women's a cappella group, Windham Voices.

As the daughter of a professional actor/singer, Victoria Phillips Larson began singing and performing in childhood. She sang solo and in mixed choruses throughout her early education, eventually pursuing a degree in musical theater from UC Santa Cruz. She participated in the Cabrillo Women's Choir for two years and has been singing with Zambra for the last decade. Victoria strongly believes in the power of music to speak to the soul at the deepest levels, and imagines herself singing to the very end.

Laura Reeve grew up in a house where folk music and three part harmonies in many languages were a regular occurrence. She began training her voice as a teenager and continued at UCSC, where she sang in the Concert Choir while getting her first of two theater degrees. She learned bodhran drumming and traditional singing at Celtic jam sessions, and found her Zambra family one night at a local pub. Family background also led Laura to explore Sephardic music, which Zambra has since taken up enthusiastically.

Jennie Siegmund began her singing career in her bedroom. She shocked friends by quietly singing backup vocals one day while someone was playing guitar and singing. From then on, she was fast tracked into her high school's two choirs and its small elite singing group, and ultimately majored in vocal music in college. She has performed in a local rock dance band and is also a member of Mary Mc Laughlin's Irish Gaelic Choir, Cor Aingli

Ann Louise Wagner has been part of Zambra from its planning stages. She credits an excellent high school choir director with inspiring her, and also her sisters, with whom she harmonizes at every opportunity. She has studied several romance languages and is fascinated by fado, qwaali, Balkan, and bluegrass vocal forms.